Transformation leads to impressive stock value increase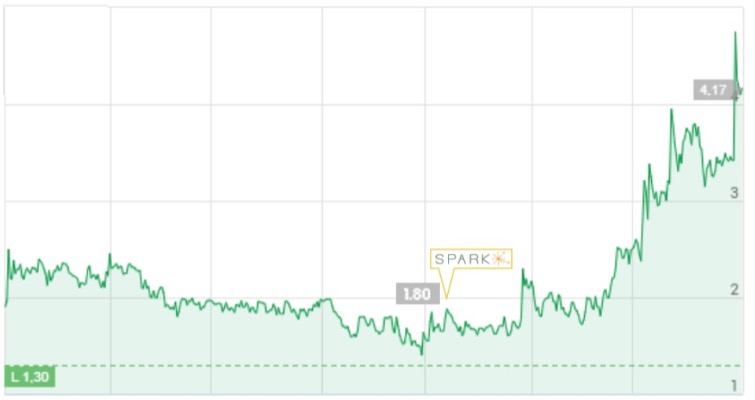 The stock market can be a harsh judge of the value of a business. Poor quarterly reports, flat to negative sales development and the absence of news releases are just a few ways that companies' stock values get penalized.
The stock market rewards growth, new markets penetrated, substantive vision from the CEO, along with new product releases and a competitive product story. The market values a company today for what it believes the company will deliver tomorrow.
Ambitions of growth and proven capabilities to build future business are key
Investors value companies that are pushing their businesses forward with ambition. Launching internationally, signing new partnerships, acquiring a new Fortune 500 customer, and winning new deals are all actionable measures that signal growth, ambitious plans, and the ability to execute. Even better, when these types of announcements are released at a steady pace, investors build trust in the company and are more likely to add-on to their stock positions.
To attract investors in today's competitive, dynamic markets, two of the most critical questions that companies face are:
How to achieve growth?
How to create future business and build the capabilities to get there?
Corporate transformations, done well, target those two questions precisely. Skilled transformation leaders will deep dive into the roadblocks holding back a company from achieving growth in its business. Once those roadblocks are discovered and analysed, a credible plan can be designed, shoulder-to-shoulder with the management team, so as to break through the barriers. The transformation plans will include product strategies and clear messaging of the product values to customers. With a clearer message, sales have a chance to accelerate.
Transformations energize and inspire teams
Transformations also tend to refresh teams and align team members around a unified purpose and a new set of exciting goals. Teams get energized, and momentum builds. They believe in the new strategies, and productivity accelerates.
With clarity and a structured transformation plan, ambition levels rise within organizations. Often, this results in stretch goals being achieved and the company delivering at a higher level. More press releases are warranted, informing investors of activities and growth, and the company's attractiveness builds.
Effective transformations show the team's ability to build a strong, substantial business – value creation in the eyes of the investors
How does this relate to the stock market and a company's stock price? Investors want to believe in the management's vision and their reasoning for the future. They want to see strong, sustainable returns and bottom-line profits, which is proof that the business is being well run.
Effective transformations focus on ensuring scalability of the company's product; for the product to be sold to more customers, at less cost to the company. With scalability, margins will rise, as the company moves from customized products (with low margins) to standardized, scalable products (higher margins). The benefits of the transformation will be visible to all in the margins.
Investors become more confident in a company when they see credible execution and evidence of the team's ability to build a substantial business. Successfully executed transformations will deliver vision and growth to the stock market.
Why wait to embark on a transformation when experience shows that transformations give a boost to a company's stock value? Investors will see the difference and confidence will grow.
I'm happy to discuss further, if you'd like to know more about how we work at Spark. Just reach out.
More News & Insights